Looe Neighbourhood Plan
News and Events
Looe Nighbourhood Development Plan published for Looe community to comment and add ideas.
The Plan and consultation form can be found by clicking on these links:
Consultation Form - Copy to print out and complete by hand.
Posted: 19 March 2019
Landscape Assesment Completed and In Use
The Looe Local Landscape Character Assessment (LLCA) has now been approved by the Steering Group and is being used as an input to the the Urban Edge Assessment being conducted by the Housing Working Group. This will give us pointers to the best places for small scale housing development and help develop policies to ward off inappropriate developments.
To find out more about the LLCA, please click on the Evidence Base pages link on the right.
Posted: 4 September 2018
Working Groups get straight down to their tasks!
Immediately after the Planning Workshop, (see below), the newly formed Working Groups had their first meetings, and all have met since, to plan their workload and start collecting evidence.

Edwina Hannaford, acting Chair of the Neighbourhood Plan Steering group, said 'Thank you to all the representatives of local groups and organisations that gave their time and expertise to review the residents survey results, come up with their priorities for working groups and first look at a vision for the future of Looe. We now have 4 working groups proposed and will be looking for volunteers to undertake more in depth research, consultations and work up policies.
'

The working groups are; 

1. Economy
2. Housing 

3. Shopping and access to services

4. Culture/heritage/tourism

Edwina added that 'All working groups topics are connected and interdependent of course, so we also identified a number of cross cutting themes such as Infrastructure provision, affordability, our geography and environment & safe communities.

If you would like to get involved please contact Looe Town Council with your contact details and working group preference.


Posted: 13 September 2016
Neighbourhood Plan workshop hears feedback from community survey and focuses on the future for Looe.
On 12th July a Neighbourhood Plan Workshop was held in the Millpool Centre to consider the feedback from the large scale community survey carried out in the spring and summer of 2016. Attendance was from a wide variety of invitations to community groups and organisations from all sectors of the town.

The meeting aimed to:

Look at the results from the long period of widespread community engagement that had recently completed. Identify the key issues facing Looe that the Neighbourhood Plan could aim to tackle.
Discuss draft visions for the future of Looe that is based on these results.
Spend a little time looking at how we will do the work to create the planning policies and proposals that will achieve the vision.

An interim 'vision' for the future of Looe emerged:
'A community that has revitalised its maritime and coastal based economy into one that brings prosperity to all and significantly reduces its impact on the environment, whilst maintaining its special character'

It was agreed to set up Working Groups to immediately start investigating and preparing new ideas for the future:

Housing and Environment
Shopping and access to services
Economy
Heritage and culture/tourism

A copy of the full report of the day can be found here:

Workshop Main Report

Workshop Main Report Appendices 1 and 3

Workshop Main Report Appendix 2




Posted: 13 September 2016
First results from Community Survey released
Some 495 people took part in the survey, sufficient to give us a 'statistically meaningful' view of what the community of Looe think are the important issues for the Neighbourhood Plan to deal with. The results will be a big input to the community working groups shortly to be set up to analyse the issues and propose ways of dealing with them. You can see the Community Survey analysis by clicking here.

Posted: 12 July 2016
Final Drop-in Session at the Millpool Centre
The final drop-in session of the current round of community engagement took place last Friday 10th June, at the Millpool Centre in West Looe. Despite posters being up around the town, press releases, tweets and facebook notices, turn-out was quite low, so we are assuming that most people who have something to say about planning in Looe have now been reached.

More opportunities to have your say will come up as working groups start to turn the community response into ideas, planning policies and proposals during the summer and autumn. Watch out for our news releases, posters, tweets and follow us on Facebook!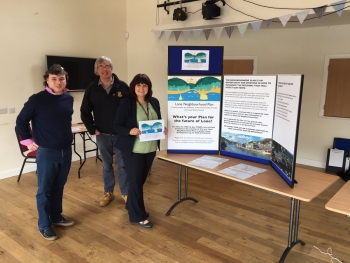 Posted: 18 June 2016
West Looe May Fayre 2016
WEST LOOE MAY FAYRE
On 7th May 2016 the Looe Neighbourhood Plan Stall was 'out and about' again, his time at the West Looe May Fayre. Another 70 people dropped by for a chat on planning matters, and also quite a few visitors to the town. A lot of the discussion on the day was about housing numbers and whether or not a Neighbourhood Plan had any real 'teeth'. The answer to that is simple: if the Neighbourhood Plan is 'passed' by the people of Looe in the Neighbourhood Plan referendum, then its 'made' in law and must be taken into account in planning decisions.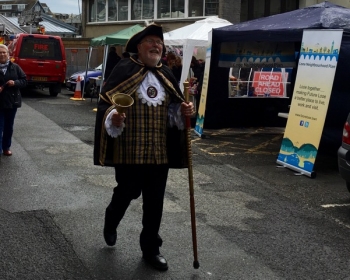 Posted: 18 June 2016
POST-IT NOTES COMMENTS FROM OUR DROP IN SESSIONS
POST-IT NOTE COMMENTS MADE AT LOOE NEIGHBOURHOOD PLAN DROP IN SESSIONS MAY/JUNE 2016

Schooling for 18 year-olds in Looe?
Housing expansion should be gradual
Start-up units for enterprise to happen = more jobs = more skills and money in the local area
More refuse bins in Looe for holiday makers to use or rubbish
Looe valley = silicon valley? Encourage those type of companies, we paid jobs, low environmental impact
Policy in Article 4 Direction area to be clearer
1ha of land at St Martins is available for employment through planning gain
Allocate land for workshops
Encourage 'well known' restaurants to open in Looe. A better dining out experience!
A new gallery – encourage artists to come here. A feature in Cornwall but not in Looe
More public transport
We need more doctors, dentists, better sewerage and a school with a 6th form
Take advantage of Looe valley cycle route
What about and stability
We need more good jobs.
Posted: 18 June 2016
Looe Festival of the Sea. May 1st 2016
On 1st May 2016 the Looe Neighbourhood Plan Stall was 'out and about' at the Looe Festival of the Sea. Around 70 people dropped by for a chat on planning matters, despite the continuous drizzle and gusty wind. Issues covered included the role of Neighbourhood Plans, housing development, jobs and the town centre. Interestingly about a third of the people who came to see us were visitors to Looe, some of who had been returning for up to 50 years! That's an accolade for the consistent quality of Looe!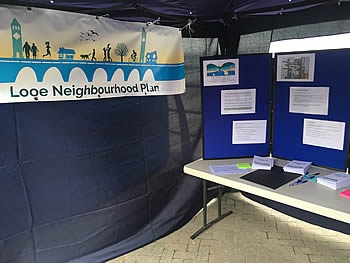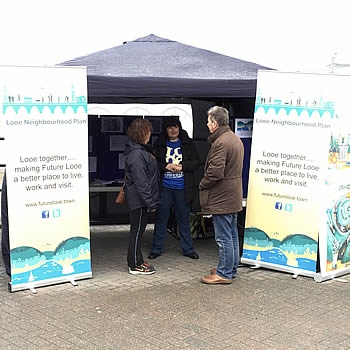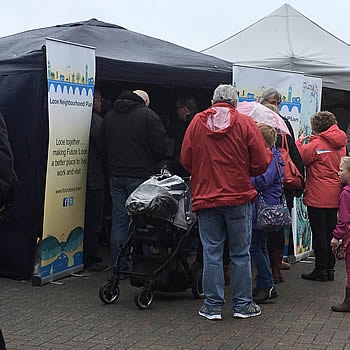 Posted: 1 May 2016
Looe Societies Day 27th February 2016
Great Turnout to Looe Societies Day

On the 27th February the Looe Neighbourhood Plan Team took their mini-exhibition stand to the Looe Societies Day, at the start of the community engagement period. About 80 people took the opportunity to visit stand to find out more about the Neighbourhood Plan and to tell us their thoughts on the future of Looe. The videos below give an impression of what people said.







Posted: 18 April 2016
Our Springtime of Community Engagement kicks off at Looe Societies Day, Saturday 27 February 2016
A busy period of community engagement on the Neighbourhood Plan starts at the Looe Societies Day on the 27th February. You can visit us at our stand to find out about the Plan and let us have your views on how Looe should develop unto 2030. You will also be able to pick up and complete a copy of one of our new questionnaires. We hope to see you there!

The community engagement period will extend through to the beginning of June 2016, and we will be attending various events, as well as holding a couple of 'drop-in' sessions where you can have detailed discussions on the Plan with one of our team. Please watch out for announcements.

Posted: 25 February 2016
Menu Bar
Meetings, Agendas & Minutes Archive
Website by WesternWeb Ltd
Last updated 16th February 2021